Virtual Reality (VR) is a simulated experience that may or may not be completely different from the real world. Usually when it comes to virtual reality, people often think of its applications in entertainment such as watching movies, playing games, … But in addition, virtual reality technology can be applied to a lot of people. fields of life (medical, education, restaurant, hotel, military, …). Virtual Tour 360 (Tour showroom 360) is one of them, and it is also a potential solution in the model Tour 360 for Car Showroom .< /p>
Different from traditional showrooms, the Tour Showroom 360 solution (Virtual showroom visit) applies virtual reality technology to build a panoramic and detailed 3D model of the umbrella showroom. filled with solutions VR technology, 360 degree tour. Applying new and optimized technology to increase the prestige and professionalism of the business. Helping businesses widely promote their high-end car products as well as their new showroom to potential customers in a new and more unique way, through interactive virtual reality experiences with products. products.
1. Solution Virtual Tour 360
Customers always want to experience the full features as well as want to see the detailed design of the product carefully before deciding to buy them. VR showroom 360 is the trend and the most optimal technology solution for customers' shopping experience. When customers can easily move in the real space of the showroom with just a few clicks of the mouse, and also experience and check the products through many different perspectives.
2. Trends of Virtual Tour in the world and Vietnam
Keeping up with new technology trends, many world-famous brands have quickly deployed virtual reality solutions for their showrooms. The virtual reality showroom offers a unique interactive space and diverse technology experiences for customers. Below is a picture of the virtual reality showroom that some world car brands have deployed: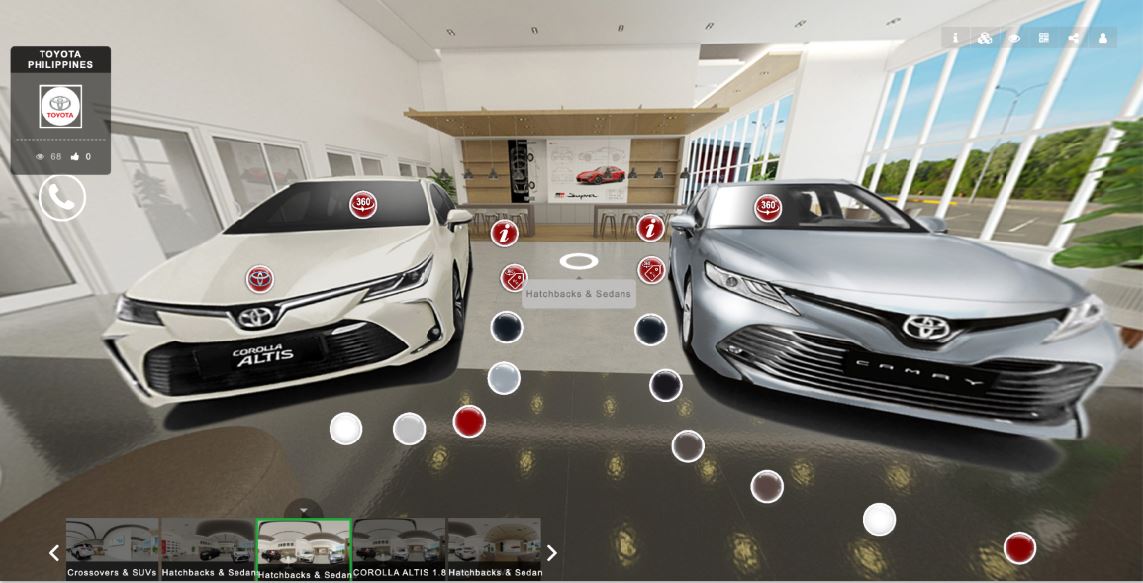 In Vietnam, some brands have started to apply virtual reality technology in building Tour Showroom 360. There have been many leading brands in Vietnam that we support to implement virtual showroom projects for them. Please refer to the Virtual tour 360 project models that VR PLUS has deployed:
3. Outstanding advantages of Virtual Tour 360 for car showroom
It is not natural that virtual reality becomes the leading trend for world technology. The outstanding advantages of this solution have proven its potential and position in the digital age.
3.1 Authentic product experience in Tour 360 for car showroom
Virtual Reality Showroom is the optimal solution to simulate integrated panorama from the reception area, to inside the display area of ​​each product in a realistic way and most complete. The showroom is filmed and taken with 360 technology. Customers can easily move in the real space of the showroom with just a few clicks of the mouse. In addition, the Virtual tour 360 technology also allows viewers to rotate 360, zoom in, zoom out, switch booths, etc. Bringing a real shopping feeling like standing at the car showroom, wherever you are.
Here is an introductory video about the project Porsche car showroom tour conducted by VR PLUS:
3.2 Full simulation of product information
Tour Showroom 360 takes customers' online shopping experience to the next level. When allowing customers to experience practically each car model and type of vehicle, increasing online interaction, saving time and travel costs. The model fully integrates product parameters, information, images, 360 videos, etc., so that customers can not only view pictures and videos of products but also experience in a virtual environment the products. products of interest from many different angles. Help viewers easily compare, compare and choose the right product.
Imagine that, just at a place with wifi connection and smartphone in hand, customers can easily experience visit virtual showroom and explore every corner of the store. interior and exterior of the vehicle they are aiming for. Feel the clearest and most honest feeling of the car's class through extremely meticulous and delicate details.
3.3 Highly Customizable
As everyone knows, cars are a luxury and expensive product, import and transportation are not easy. In a traditional showroom, it is difficult for the company to display a full range of vehicles, types, and color models of vehicles. So how can you see and experience the car you are interested in!? Our solution is still Tour Showroom 360. Allows customers to freely change the color, material, design or accessories of the product in 3D space. From there, help customers visualize exactly the product they want.
Check out an illustration of the 360-degree product customization experience VR PLUS has implemented below:
4. Typical features integrated in Virtual Tour 360 for car showroom
4.1 Product personalization
The feature allows users to rotate the product 360 degrees, change accessories, materials, colors both on the interior and exterior of the product in 3D space. Visually describe the sound, the sound emitted easily. Give customers the most authentic experience, like interacting with real products wherever they are.
4.2 360 Product Experience
Instead of looking through normal 2D photos, viewers can now fully experience 360-degree photos of products at Virtual showroom tour. Here, the products are set up in the same position as at the physical store. So buyers can easily access the products they want and click to view 360 images as well as product specifications. It's comfortable and convenient when shoppers can freely view products to their liking without worrying about being disturbed, or being limited in time anywhere.
4.3 Integrating Virtual Tour Guide in Tour 360 for car showroom
Virtual Tour 360 becomes more friendly and approachable with the virtual tour guide feature. This feature will integrate a Sales person to guide viewers directly. From there, there are more instructions and navigation and information to customers visit Virtual Showroom easily, increasing the experience of hearing – seeing in the Tour. Simultaneously, it can integrate many different languages, serving the experience of many customer groups.
Illustration for virtual Tour Guide integration:
4.4 Live Guide Tour (Live Guide Tour)
Live Guided Tour – allows you to video call directly and guide customers while they are experiencing Tour 360 on smart devices. Help customers have an authentic product experience as guided by the staff right at the traditional showroom. From there, customers can easily check and try the product's features through the instructions and information you provide during the interactive video call.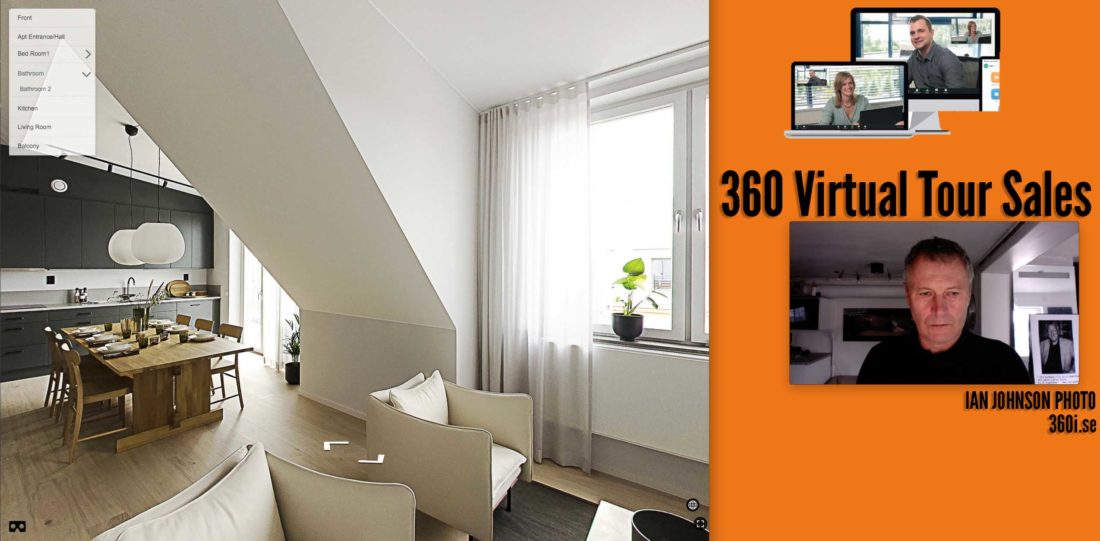 4.5 Moving floor plan
A function integrated right on Virtual Tour 360 is Floorplan. This feature will help customers know where they are in the floor plan of the experience area. They can move to other points quickly when needed. There are currently 2 types of floor plans to choose from: 2D or 3D
4.6 Cart Features
With this feature, customers can easily choose and shop online right on the platform of Tour Showroom 360. However, cars are a high-end product line and customers tend to buy right on the web, so we can integrate a similar booking feature.
5. Virtual Tour 360 design service for professional car showroom
As a pioneering Creative Agency in the field of research and provision of virtual reality solution, augmented reality (AR), 360 videos. VR PLUS production of 3D / 360 content. We are confident that we can provide a full range of VR services. As well as being able to consult and build the overall 3D Showroom model for you. So are you ready to equip this advanced technology for your Marketing campaign!?
Some solutions for 360 technology applications, virtual reality may interest you:
To learn what virtual reality is and its applications? 360 tour technology in marketing & sales how? You can refer to our article here yeah.
If you are also looking for a similar solution, go contact us immediately with us for the fastest support:
VR PLUS – The leading virtual reality, augmented reality solution in Vietnam Nam.
Email: hello@vrplus.vn
Hotline: (+84) 963.186.388
Website: www.vrplus.vn