During the complicated situation of the COVID-19 epidemic, almost all industries are immersed in the "dark night" of challenges. Many businesses are still struggling to find solutions to balance customer events and product launch events. This directly affects the business situation and seriously reduces sales. Understanding those needs, VR PLUS launched the solution Virtual EVENT application of virtual reality technology 360.
The solution appeared to have hit the urgent needs of many businesses in the context of the raging epidemic. Therefore, having a solution for yourself online events is something that businesses need to prioritize. This can be seen as a leap forward to help experience the event no longer be limited by any space or time like the traditional way of organizing events.
1. What is a Virtual Event?
Virtual Event is a type of online event where people interact with each other through a virtual environment instead of meeting in person at a physical location. Virtual Event has a combination of many sources of data/images/videos… to minimize contact and crowd gathering activities. Your customers will check-in to the event by visiting the website, clicking on the event link and logging in. Here, guests can participate, access and capture information easily and fully, using only 1 smart device with network connection such as smartphone, PC, table, VR device,…
Virtual Event has two forms:
The event combines live recording and interlacing of materials available on social media platforms: Live (live) – 70%, Recorded (recorded) – 30%
Event edited and replayed live (Recorded 100%)
Depending on the nature and content to be conveyed, companies can flexibly choose the appropriate form.
2. Why implement a virtual event solution?
2.1 Virtual event solution to reduce costs
Cost is the first factor when discussing the issue of event organization. An event requires human resources and costs for activities such as:
– Set a suitable venue with capacity.
– Train human resources in terms of knowledge and attitude.
– Set up a marketing booth.
– Parking and catering facilities.
– Travel and accommodation expenses of speakers, guests,…
On the other hand, virtual events allows organizers to cover a smaller fraction of the cost of hosting an actual event. Most efforts go towards marketing to increase customer awareness, while virtual event providers take care of the setup details behind the scenes.
2.2 Expanding customer market
Due to its online nature, virtual events can expand their reach to a worldwide scale without being limited by space and time. Meanwhile, physical events have a limited capacity, attracting almost exclusively local audiences and those interested in the event theme. Furthermore, a virtual event can be accessed from home or any device, which creates convenience for the participants and reduces the anxiety of having to travel during difficult times like today. now.
2.3 Virtual event solutions to enhance the experience
Unlike Web-based event platforms, virtual events are built to accurately represent the values ​​that a physical event possesses. It allows to present promotional materials in different formats such as banners, videos, … instead of paper documents. Likewise, virtual events provide networking through chat tools, guide participants through the use of virtual information booths, and facilitate attendees and speakers alike. All of these experiences are then encapsulated in a visually rich 3D environment. Gives a real feeling, like the audience is participating in a real event.
2.4 Effective measurement and statistics support
Before organizing an event, the organizer needs to set clear goals. But how do you know if the event is a success? And after the event is completed, how can the organizers accurately calculate the goals? At a virtual event, it becomes easier to measure event success with the help of statistical features like real-time attendance and interaction.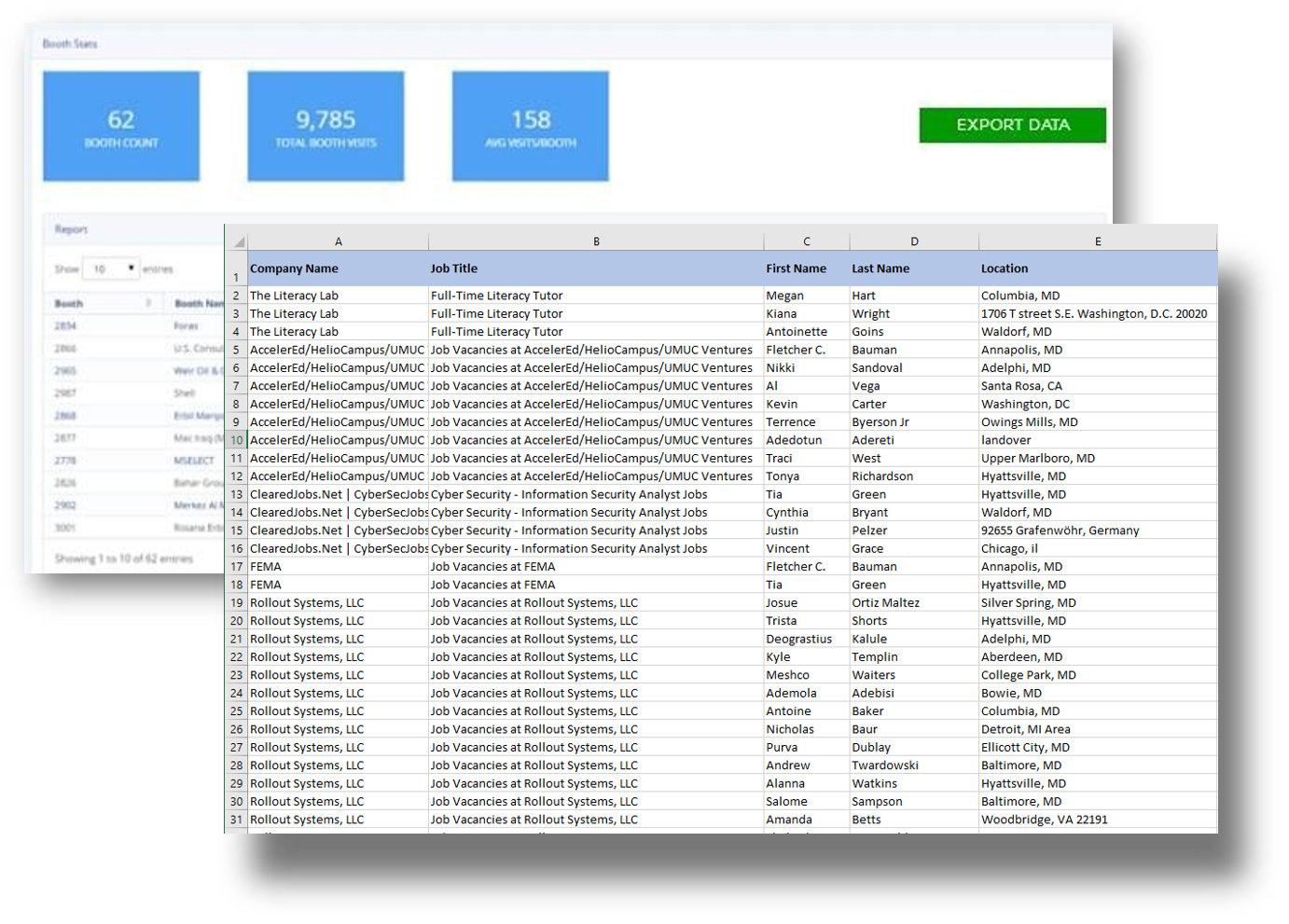 2.5 Meeting special needs
In any event, designing how people with special needs can comfortably participate is an important consideration. Events need to be specifically designed to help reach customers who move or use wheelchairs or hearing aids. Likewise, virtual event platforms also put this in the spotlight to provide the best experience. Examples: Platforms that allow visually impaired people to change font size and use content through add-ons such as text-to-audio conversion.
2.6 Environmentally friendly
This is the factor that makes virtual events superior to actual events when the organization of actual events leads to a large amount of waste (especially paper waste). increased carbon emissions. On the other hand, a virtual event is considered very environmentally friendly as the amount of paper waste is replaced by audio clips, word copies, etc. This is why virtual events are the preferred choice. The first priority of many organizations interested in environmental issues, wishing to reduce waste to the maximum extent possible.
3. What are the ideal events to organize Virtual Event?
The virtual event solution can interact with a large number of viewers in a short time and bring direct feedback from the business's customer file that was previously difficult to contact. approach to collect information. This would be an ideal choice for businesses to launch a new product, answer frequently asked questions, or reveal how to use and optimize the product. Virtual Event  ;with the topic of tutorials, Q&A, tips will be a reasonable choice because you can completely collect questions from viewers immediately.
Suitable events to organize Virtual Tour:
Training and courses: The subject matter of this type of event is quite complex as it provides in-depth knowledge on a particular topic, or set of techniques. skills, tools and requires more careful preparation.
Q&A and interviews:
Virtual events allow you to share knowledge in a face-to-face Q&A format, and are often held on social media platforms to gather information. attract public attention and interaction. Alternatively, to make your event more engaging, you can partner with famous speakers or let an artist talk and perform during the event.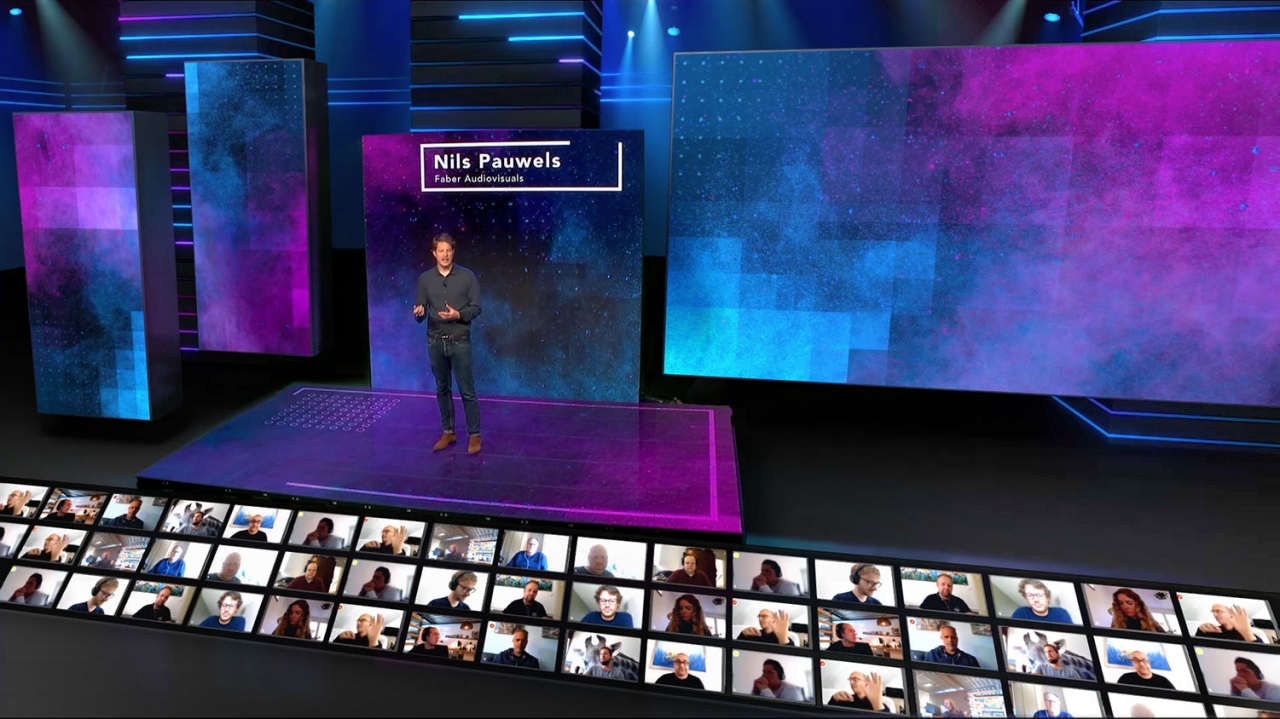 Conferences and shows: An example is Tomorrowland which held an electronic music event world's largest online with DJs playing in the studio. This innovative virtual event model has attracted millions of attendees. This shows that it is as influential as the actual events.
…
4. Trends of using virtual event solutions in the world and Vietnam
Even after or after the pandemic, the explosion of events on digital platforms has been, is and will continue to be updated. Businesses and communities large and small are all adapting to these changes, Virtual Event will become an integral part of every brand in the world.
Many domestic and foreign enterprises have grasped the trend and implemented virtual event solutions: China Canton Fair Import and Export Virtual Fair, Bao Viet Life, Kioxia (Germany),…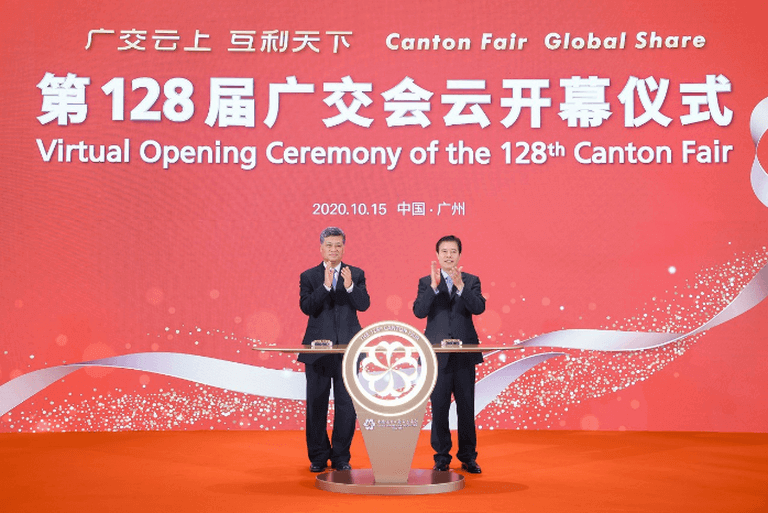 4. Virtual event solution
4.1 Experience a panoramic tour of the virtual event space
The virtual reality technology applied in Virtual Event is mainly filmed in a 360-degree view. This mode helps the image come to life, 360-degree image angles create a 3D multi-dimensional view, showing everything from top to bottom, left to right. Customers can move freely around the event space with ease, and experience everything as if they were in the actual event itself.
4.2 Select each area/booth you want to experience
Customers can choose each display area/service counter integrated in the virtual event to experience and visit. At each of those points, participants can easily zoom in, zoom out, rotate,… to experience the area with many different perspectives. With the entire area described in the virtual event visually and vividly, guests can easily experience and update the information conveyed there.
4.3 Experience the details of each area with a virtual event solution
After selecting the desired location, now is the time for customers to officially explore the details of each display product, detailed content, and the message the business wants to convey. From there, participants can connect – exchange – share in special events of the business conveniently and directly. uan. No longer limited by space and time. All it takes now is an internet and a smartphone.
4.4 Register to participate in the program / order products when participating in virtual events
After visiting and experiencing products and services at virtual events, if satisfied with them, customers must have made their choices. Therefore, this integrated feature allows customers to easily and quickly manipulate showcased products/introduced services while attending the event.
5. Typical features integrated in the virtual event solution
5.1 Virtual event solution Virtual tour guide
The virtual tour guide feature in the virtual event model creates a more friendly feeling for customers when participating in the experience. We can integrate voice clips in many different languages ​​to introduce and guide guests to the event more easily in a virtual environment.
5.2 Live guide tour – Live video call with customers
Live guided tour is an additional feature integrated in a virtual event that helps customers video call directly with a consultant to exchange, introduce and solve problems. Answer questions immediately. Thanks to this tool, businesses can guide customers to follow the right flow of the event scenario, helping to increase the sales closing rate as well as the professionalism shown behind it.
5.3 Virtual event solution with integrated migration diagram
The integrated moving floor plan helps customers know where they are in the virtual event space. From there, guests can easily move to other areas to experience and visit.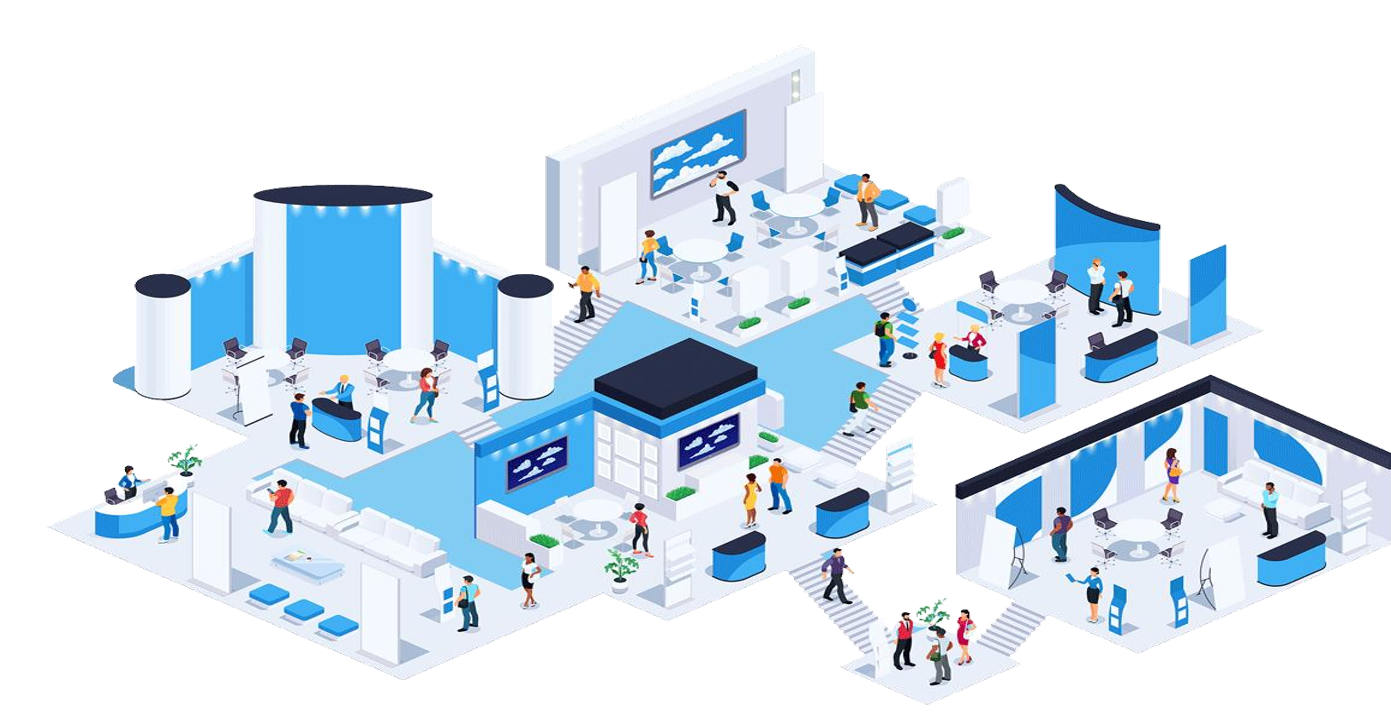 5.4 2D video integrated virtual event solution
To make the virtual event experience more interesting and vivid, the Virtual event solution allows the integration of 2D videos on the screens in the 3D space of the event. These 2D videos can bring content to introduce the business, product or add some necessary information to the experience booth area.
If you are looking for some more applications of virtual reality (VR) and augmented reality (AR) in virtual event organization, please refer to this article for further expansion.
Some 360 ​​technology application solutions, virtual reality may interest you: 
< a href="https://vrplus.vn/giai-phap-thuc-te-ao-tour-360-cho-truong-hoc-2″>Virtual reality solution, 360 tour for schools
To learn what virtual reality is? and applications of virtual reality, 360 tour technology in marketing & how to sell, you can refer to our article here nhh.
If you are also looking for a similar solution, contact us immediately for the fastest support:
VR PLUS – The leading virtual reality, augmented reality solution in Vietnam Nam.
Email: hello@vrplus.vn
Hotline: (+84) 963.186.388
Website: www.vrplus.vn