In today's dynamic and competitive furniture market, in order to attract customers, in addition to good product quality and service, businesses must also pay attention to the design of a display space. so beautiful and unique. Therefore, the showroom is increasingly being invested by companies. Applying VR technology (Virtual Reality), the Tour 360 model for interior showroom (Virtual tour 360) is a new step forward in this field. With the superiority of visual experience for potential customers, this solution positively impacts customers' decision to buy furniture, saving time and effort of both buyers and consultants. .
1. Virtual Tour 360 solution for furniture showroom
In the field of furniture business, especially those dealing in high-end furniture lines, showrooms with large areas, clearly delineated product areas and eye-catching layouts are one of the the first factors that make an impression on consumers. These areas not only show the highlights of the product, but also help buyers get an overview of the furniture and consider whether the interior design is suitable for their living space. ;
360 showroom tour with a virtual showroom designed and pre-built 3D model from panoramic to detailed, exactly like the actual showroom . This optimal technology solution enables customers to fully experience the features and detailed design of the products they care about.
2. Trends of Virtual Tour of the world's interior
In addition to traditional showrooms, selling furniture online is also a trend these days. But the question is how to create customers' attention with the products? How to make them more beautiful and sparkling in the eyes of customers? And how to keep customers on the website to learn and buy products?
The most important thing for selling furniture online is trust to make customers satisfied and comfortable with the service. If the dull 2D images, limited product viewing angle on the website, are not enough to convince customers to buy. Now, virtual reality showroom tour will solve all doubts and questions about customers' products. With just a light click, customers can set foot in the actual showroom right on their mobile phones and enjoy shopping right in the experience space.
Quickly grasping new technology trends, many world furniture brands have immediately applied Tour 360 for their own showrooms:
3. VR solution in 360 tour for furniture showroom
In the furniture business, the showroom is not only a place to do business and trade, but also a place to build a brand and leave an impression on customers. The goal of showroom design is how to attract customers to shop in the most effective way. Virtual Tour 360 is a flexible application that brings a new experience to customers.
3.1 Visiting the Virtual Showroom
Application of virtual reality to 360 showroom tour makes online shopping much more enjoyable, transparent and reliable than traditional purchasing methods. When customers can easily move in the real space of the showroom with just a few clicks of the mouse, and also experience and check the products through many different perspectives.
3.2 Select desired furniture
All that customers see invirtual showroom is a 100% realistic image, touchable, touchable, interactive in 360 degrees space. Every corner of materials and interior products applied to the model apartments is reproduced as realistically and vividly as if you were standing in the actual showroom. Customers are completely free to navigate and choose their favorite areas, thereby saving a lot of time and travel costs.
3.3 Experience product details on any device
Invest VR technology in furniture showroom, helping customers have the most comprehensive shopping experience. All product information, size specifications, prices, materials, even customer reviews can be displayed directly on the product. Customers will freely research and choose products in the virtual showroom without having to go to the place. Thanks to that, customers can easily compare, compare and choose the right product.
No need for a consultant, with the Tour 360 solution for interior showroom, customers can still fully visualize the product on any smart mobile device. , and actively choose to buy anytime, anywhere. Even guests can easily share your products and space with family and friends. This is also a new technology trend that opens up many opportunities for the global furniture industry and begins to develop strongly in Vietnam.
3.4 High product customization
VR technology is considered a great revolution in the application of model Virtual showroom visit. The effect it brings is outstanding, allowing customers to customize the product. Customers will be completely conquered by this professional and modern online shopping style. With just simple operations on mobile devices, you can easily change the material, color, pattern,… of the product.
In addition, this solution also visually describes the sound and noise emitted easily. Give customers the most authentic experience, like interacting with real products wherever they are. From there, help customers visualize exactly what they want.
Check out an illustration of the 360-degree interior customization experience below:
3.5 Cart Features
With this feature, customers can view products and easily choose to shop online while visiting the virtual showroom.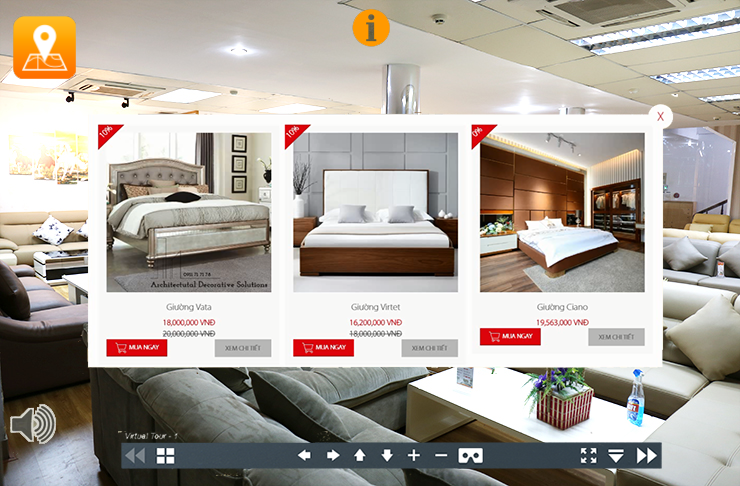 4. Typical features integrated in Virtual Tour 360 for interior showroom
4.1 Integrated Virtual Tour Guide
Features Virtual Tour guide makes the customer experience on the Tour Showroom 360 model more friendly and intimate. The integrated virtual tour guide helps guide viewers directly, increasing the audio-visual experience. From there, there are more instructions
directions, navigation and information to make it easier for customers to visit. Besides, this feature also integrates many different languages. In order to serve the experience of many groups of customers.
4.2 Live Guide Tour (Live Guide Tour)
Live Guided Tour is a feature that allows you to video call directly and guide customers right when they are experiencing Tour 360 on smart devices. Guide customers to experience authentic products like employees at a traditional showroom.
This feature of tour showroom 360 is the perfect replacement for the cumbersome, ineffective 2D visualization and instruction manuals. Overcoming all limits of time and space, removing obstacles in weather conditions, traffic, and people. Sales can now more easily and confidently introduce online product images to customers, taking full information from them. From there, customers can easily check and try the product's features through the interactive video call process.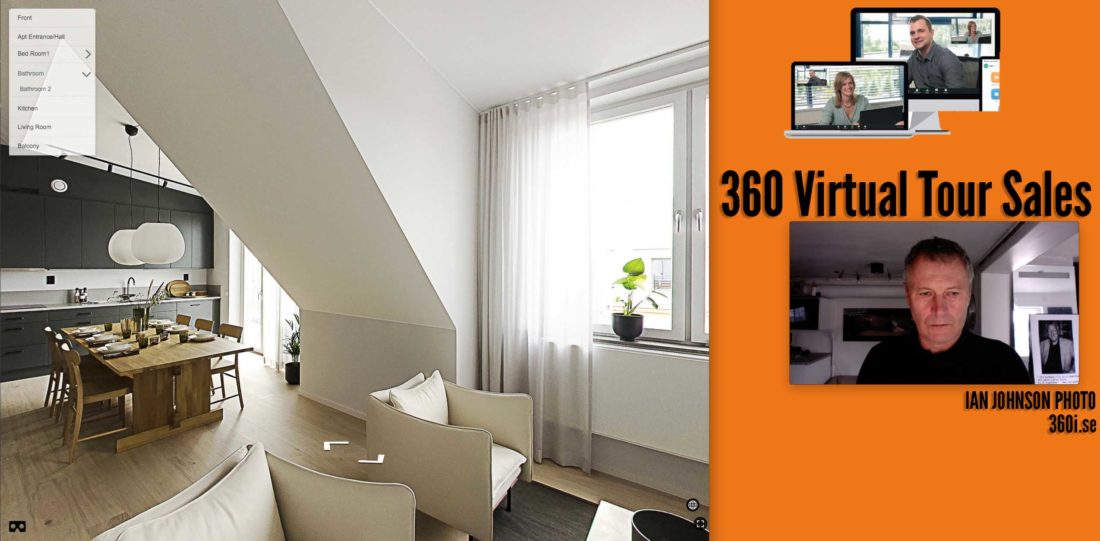 4.3 Moving floor plan
Another function integrated on Tour 360 is Floorplan. This feature will help customers accurately determine the current location and can quickly move to other locations in the virtual showroom with just one mouse click.
4. 360 Tour Service for Professional Furniture Showroom
Showroom is the face of the business in front of a series of partners and customers. An impressive and professional showroom design will partly show the strengths and capabilities of the business. At the same time, make customers trust your brand and products more. Catch the trend and create a competitive advantage with a different mark!
Some solutions to apply 360 technology, virtual reality that you may be interested in: 
To learn what virtual reality is? and applications of virtual reality, 360 tour technology in marketing & how to sell, you can refer to our article here nhh.
If you are also looking for a similar solution contact us immediately with us for the fastest support:
VR PLUS – The leading virtual reality, augmented reality solution in Vietnam Nam.
Email: hello@vrplus.vn
Hotline: (+84) 963.186.388
Website: www.vrplus.vn