Tour 360 Restaurant Hotel – Virtual reality, also known as virtual reality (in English virtual reality, abbreviated as VR) is a term describing a completely simulated (virtualized) environment. ) thanks to specialized devices, it is possible to simulate experiences that are the same or completely different from the real world. VR technology is mostly known through entertainment applications such as games or movies. However, today, this technology can still be applied in a variety of fields of life, from entertainment, healthcare, education, military, restaurant, hotel, retail, …
Tour 360 Solutions is one of them. Virtual Tour 360 allows users to tour a showroom, an exhibition, a gallery or a space with real-life experiences through smart electronic devices. (TV, computer, smartphone, tablet, …)
In the field of Restaurants and Hotels, VR Tour allows viewers to easily visit the architecture, clearly visualize the landscape and services here. Thereby enhancing the viewer's experience and helping viewers have the most intuitive view of the service they are about to choose. In addition, this is also a method to promote the image and services of Restaurant and Hotel to a wide range of users.
1.Virtual Tour 360 Solution
VR Tour 360 is a technology that allows viewers to get lost in a virtual world that is simulated as real, fully, intuitively and vividly reproducing real images and experiences, possibly by images. reality or 3D simulation image. Viewers can easily move around, rotate 360 ​​degrees, zoom in and out of locations or view detailed product information right on the website's own platform.
2. World and Vietnam Virtual Tour Trends
Keeping up with new technology trends, many world-famous brands have quickly deployed virtual reality solutions for their Restaurants and Hotels. These include the famous 5-star hotels such as Atlantis Dubai Hotel, Hurawaldi Maldives Island Resort, Walt Disney World Resort, …
Here is an example of that some of the major Restaurant and Hotel brands in the world have used:
In Vietnam, some brands have started to apply virtual reality technology in building Virtual Tour 360. There are many leading brands in Vietnam that we support to implement the Virtual Tour 360 project for them.
Please refer to the project that VR PLUS has implemented at the 5-star KK Sapa Hotel here:
3. Virtual Tour 360 Solution for Restaurants and Hotels
It is not natural that virtual reality becomes the leading trend for world technology. The outstanding advantages of this solution have proven its potential and position in the digital age.
3.1 Experience the authentic space at the Restaurant and Hotels
Virtual reality technology is the optimal solution to simulate the whole scene Restaurants and Hotels, from the reception area, to the area. lobby, corridor, interior, and services that Restaurant and Hotel provides (spa, gym, swimming pool, …) . With Virtual Tour 360 technology, Restaurant and Hotel will be filmed and captured 360, providing the most realistic and panoramic view for viewers.
Here is an introduction video about Dusit Princess Hotels & Resorts made by VR PLUS here.
3.2 Select each area to explore
With Tour Showroom 360, customers can choose between following the arrows, like a real-life experience, moving and visiting each area one by one. Or customers can choose to move to the desired area through the integrated moving map right on the display screen.
3.3 Experience the design details inside
After selecting the desired sightseeing area, be it the lobby area, rooms, swimming pool, customers can visit the whole area. Here, customers will be able to visit the 360 ​​space of the area, easily move, zoom in, zoom out, in addition, can also see all the information and attached services that Restaurants and Customers hotel offers.
For restaurants, food hygiene is a very important issue for customers, especially for large and famous restaurants. Usually, customers rarely have the opportunity to visit the area inside the kitchen, which leads to doubts about the quality of food hygiene. With Virual Tour 360 technology, customers can now have an intuitive and vivid view of their food preparation area, thereby increasing their trust and promoting quality. that the restaurant provides.
Restaurants and Hotels can integrate additional information to promote their image and enhance the value of their services, thereby enhancing the customer experience . Customers can not only experience the space, but also be provided with more information that is easy to ignore if they just visit like a real experience. Then customers can easily compare, compare and choose the right product.
3.4 Booking
Certainly after such a visit, customers can have a choice for themselves. Customers can easily go to the reservation/reservation area integrated on the website platform, be redirected to popular booking websites, or contact directly via the hotline number provided.
4. Typical features integrated in Virtual Tour 360 for Restaurants and Hotels
4.1 Experience 360 ​​space
This is the basic and familiar solution for most 100% completed projects. With 360-degree capture and rotation technology, customers will experience the most intuitive and vivid space. The quality of photos taken can be up to 10K, people can freely experience it on any medium and still retain the vivid feeling like in real life.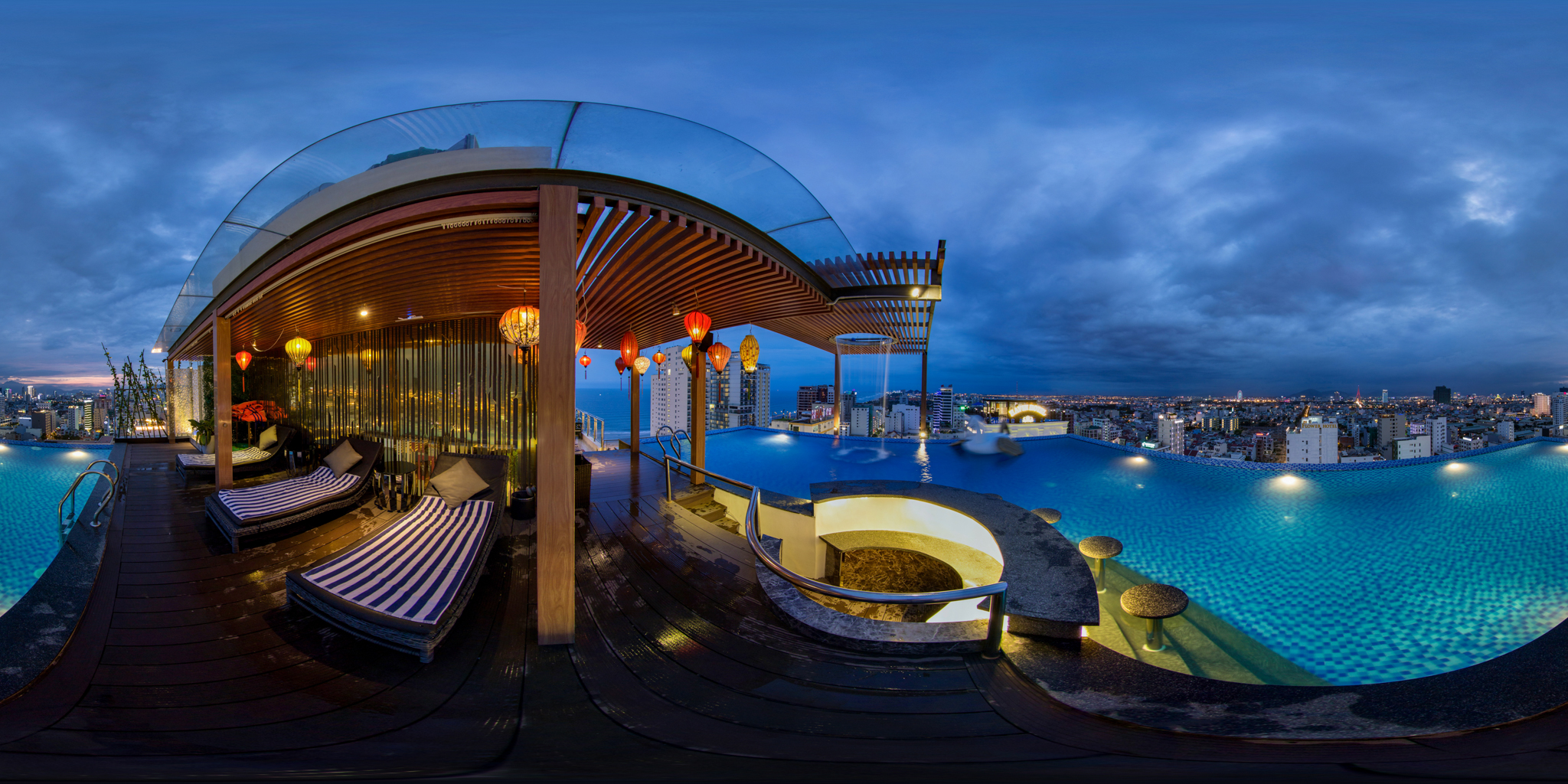 4.2 2D Video Integration
To enhance the customer experience, VR Plus can directly integrate 2D videos onto the TV/projector screen in 3D space. Thereby providing more information to customers, and simulating the experience like customers are visiting in real life.
4.3 Virtual tour guide
Virtual Tour 360 will become more friendly and closer with the virtual tour guide feature. This feature will integrate a Tour Guide to guide viewers directly. From there, there are more instructions, navigation and information so that customers can visit Virtual Tour 360 to be the most complete and complete.
In addition, Virtual Tour 360 can also integrate with many different languages, helping to diversify the approach to many customer groups.
Illustration for virtual Tour Guide integration:
4.4 Live Guide Tour (Live Guide Tour)
Live Guided Tour – allows you to video call directly and guide your customers while they are experiencing Tour 360 on the device clever. Help customers have an authentic product experience like being guided by the service staff like a traditional experience. From there, providing complete, intuitive, and vivid information to customers.
4.5 Moving floor plan
One function is built right into Virtual Tour 360 that is Floorplan. This feature will help customers know where they are in the floor plan of the experience area. They can move to other points quickly when needed. There are currently 2 types of floor plans to choose from: 2D or 3D.
4.6Booking feature
After visiting the experience, customers can easily navigate to the area  Reservations/table bookings are integrated right on the website's platform, or contact via the displayed Hotline number or chatbox.Tour 360 Restaurant Hotel
Here is VR PLUS 360 VR Tour in partnership with The Clover Restaurant here:
5. Virtual Tour 360 design service for Professional Restaurants and Hotels
Virtual reality technology creates a revolution in the advertising industry in general and the location business in particular and especially the Business industry hotel. Because of the ability to interact directly, save travel costs, help customers visualize visually – vividly about the products – services of the hotel/resort, contributing to promoting the demand for booking/booking of the hotel/resort. customers for the service you provide.
So are you ready to equip this state-of-the-art technology to create a competitive advantage for your business!?
Some 360 ​​technology application solutions, virtual reality may interest youm
To learn what virtual reality is and its applications? 360 tour technology in marketing & sales how? You can refer to our article here hey.
If you are also looking for a similar solution, go contact us immediately with us for the fastest support:
Tour 360 Restaurant Hotel
VR PLUS – The leading virtual reality, augmented reality solution in Vietnam Nam.
Email: hello@vrplus.vn
Hotline: (+84) 963.186.388
Website: www.vrplus.vn
If you are interested, please leave your message here.